UPDATE: Pinterest has deleted the two accounts I reference below but it appears this is happening across many other accounts as well (see the comments). Key take-away: check your followers regularly for anyone you haven't followed yourself. If you find anything odd let me know in the comments.
I'll add details here as I investigate more but it looks like Pinterest has been hacked again. This is probably related to the original Pinterest hack I discovered the other day. What appears to be happening is the hack is somehow auto-following Pinterest users for you. I noticed this on my profile just now: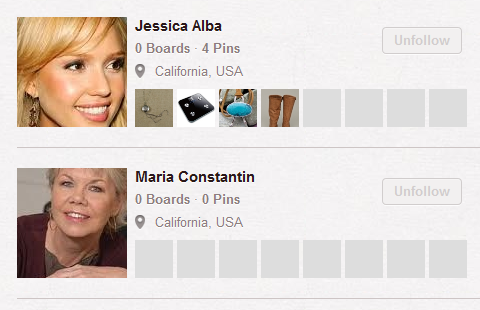 I did not follow either of these women. I might have visted Maria's page while checking out the original hack, her face looks familiar, but I definitely did not visit Jessica Alba's page.
If you look at Maria's profile you can see she has over 84000 followers but 0 pins! The fake Jessica Alba profile shows over 99000 followers and only 4 pins, in Jessica's case a good % of the followers could be from people mistakenly believeing it's really her but many were clearly auto follows. Check your followers and let me know in the comments if this has happened to you too.
UPDATE: Maria appears to have been deleted by Pinterest since I published this so you won't see her on your profile now. The fake Jessica is still there as of now though.
UPDATE 6:12 EST: The fake Jessica has now also been deleted so you won't see her either.